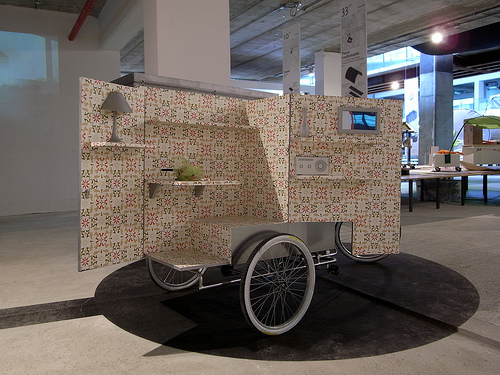 PROGETTO SPECIALE | IAAD, NABA con GHIGOS | Confartigianato Imprese Torino (Falegnameria Odino Egidio, Racetech, Vibel), Jannelli&Volpi.
Le due scuole di design IAAD e NABA, insieme con Ghigos, hanno portato avanti in tutto il quartiere di San Salvario un interessante progetto che, per affinità di intenti è stato inserito a pieno titolo nel processo di Geodesign. Il progetto consiste nell'ascolto del quartiere attraverso un archivio mobile realizzato dagli studenti, che raccoglie informazioni audio-video. Si tratta di un carretto trainato da una bicicletta che contiene al suo interno un citofono, una buca per le lettere, una videocamera, un computer e un registratore. Questi elementi servono a registrare le memorie del quartiere e a ritrasmetterle al quartiere stesso, incentivando le relazioni e lo scambio di informazioni.
IAAD and NABA design schools, together with Ghigos, carried on in the whole San Salvario district an interesting project that has been rightfully inserted in Geodesign process for its purpose affinity. The project consists in listening to the district through a mobile archive realized by the students, that hold audio-video info. It is a little cart pulled by a bicycle that contains an entry phone, a letter-box, a camcorder, a computer and a recorder. These elements are useful to record district memories and to re-broadcast to the district himself, motivating relations and trade information.