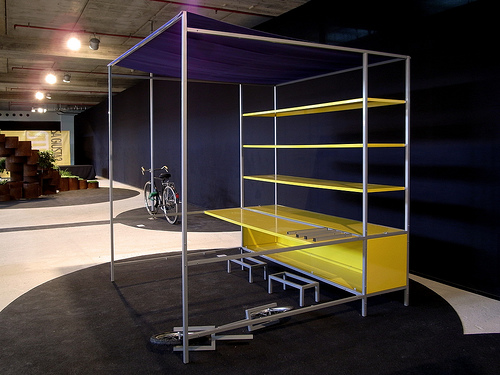 BALON | Sami Rintala | Azetagroup.
Il mercatino delle pulci del Balòn è uno dei pilastri della città di Torino, luogo di ritrovo del sabato di giovani, famiglie e anziani che passano la giornata curiosando tra i banchetti in cerca di cianfrusaglie o di veri affari di antiquariato. L'Associazione ViviBalòn è il punto di riferimento del mercato, contraddistinto dall'enorme eterogeneità dei suoi venditori: si occupa di assegnare i posti ogni settimana  lungo le strade di Borgo Dora ai venditori ambulanti della ex legge 121in cambio di una cifra simbolica. Quello che manca sicuramente al mercatino è una regolamentazione nell'uso dei banchetti e delle coperture. Sami Rintala ha progettato con Azetagroup un carretto versatile e leggero da maneggiare, di dimensioni 200×50 cm, accessoriato di copertura e ruote per il trasporto e trasformabile in banco espositivo più alto, a più ripiani.
The flea market in Balòn is one of the main attractions in Torino city, where young people, families and old people meet on Saturday poking around all-day-long between stands, looking for knick-knacks or true antique bargains. The association ViviBalòn is the point of reference of the market, characterized by an enormous heterogeneity of its sellers: every week they assign places along Borgo Dora streets to peddlers ex 121 law in exchange for a symbolic amount. What is surely lacking in the flea market are rules for the use of stands and covering.
Therefore Sami Rintala has designed with Azetagroup a versatile, easy-to-manoeuvre cart, measuring 200×50 cm, complete with roof and wheels, which turns into a tall display stand, with several shelves and a roof. A kind of magic covered wheelbarrow.